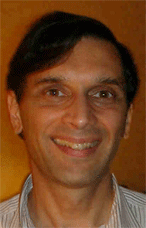 Shyam has been practising yoga since 1957 and been teaching yoga since 1973.
He had a Christian upbringing, in England.
At Cambridge University he became interested in yoga philosophy and Hinduism.
Later he gave up his Hindu sacred thread in order to fully devote his life to helping all nice people become happy.
He has had a variety of religious experiences in his life and worships God almost every moment of his waking hours.